Right to Know
RTI law is an effective tool to highlight corruptions, faith-based discriminations: Experts
ISLAMABAD: Experts at an advocacy workshop were in consensus that the right to information law is an effective tool that can be used not only to expose corruption and corrupt practices in the administrative system, but to highlight 'faith-based discriminations being committed in society consciously and unconsciously'.
They were of the view that the public in general and journalists in particular can use this law to get certified and credible information of their interest from any public sector body or department.
They also said that journalists can use the RTI law to improve the quality of their investigative reporting as the law assures provision of certified information from every public sector body.
Media, particularly mainstream media, ignores the issues faced by religious minorities in the country, emphasizing that issues related to faith-based discriminations can be highlighted in the light of former Chief Justice Tassaduq Hussain Jillani's 2014 ruling.
The event was organized by Institute for Research, Advocacy, and Development (IRADA). The purpose of the workshop was to enhance journalistic skills of the journalists associated with Digital Media Alliance of Pakistan (DigiMAP) platforms. The session was aimed to improve journalists and researchers' understanding about the RTI laws.
Digital media journalists associated with different digital media platforms attended the workshop from across Pakistan.
The experts threw light on the effectiveness of the RTI law to improve the quality of journalism.
The experts' briefed how a journalist can file an information request to a public body and get information of his/her interest.
While sharing findings of his organization's recent research study, Aftab Alam from IRADA said faith-based discriminations could be highlighted in the media under the 2014 verdict of the Supreme Court, but it could not be done so far.
Aftab Alam said that the study found that issues of religious minorities are not given proper coverage in Pakistani media.
Furthermore, the research findings claimed that the coverage given to the religious minorities was not supportive as they were either presented as victims or as a threat to society.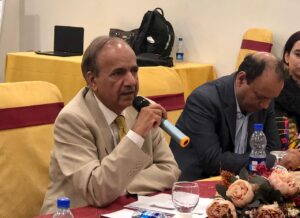 Pakistan Information Commission (PIC) Chief Information Commissioner Muhammad Azam Khan said that the Commission is working to ensure transparency in the functioning of the public bodies.  However, he also highlighted the challenges faced by the Commission since its announcement.
The PIC chief commissioner asked journalists to file a maximum number of information requests to effectively utilize this law.
According to the RTI law, all the ministries and public bodies are required to publish information on their websites for public consumption, he maintained.