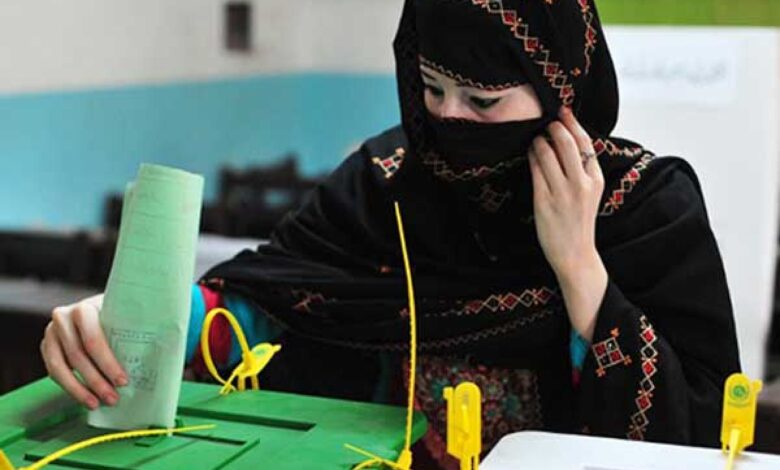 By Sajjad Ali
PESHAWAR: The election of the two women in 689 candidates for 66 tehsils in the 17 districts of the Khyber Pakhtunkhwa on Sunday's Local Bodies Elections shows very clearly how women's representation remains a low priority for all political parties.
Out of 49.3 percent women which almost make half of the Khyber Pakhtunkhwa population has only two candidates contesting for tehsils chairmanships in the first phase of the LG elections in the province.
According to the Election Commission of Pakistan's (ECP) records, only two around 689 candidates directly contesting the upcoming elections in 17 districts of KP on December 19 are women. What is even more surprising is that almost all the parties have completely ignored women when allotting the tickets, even to meet the legal requirement.
As per the Election Act 2017, five percent quota of the women in awarding party tickets to women is a minimum legal requirement. Keeping in view the legal requirement, every political party which contested on all 66 tehsil seats have to award three tickets to women candidates. All political parties, however, are going into Sunday's LG elections without women candidates, scheduled to be held on December 19 at 17 districts of the Khyber Pakhtunkhwa, except Qaumi Wattan Party.
As per the ECP's data, there are 7015767 male and 5653095 are female voters registered in the 17 districts of the KP. In spite of this equation, hardly 02 women are contesting the elections compared to over 689 men for 66 tehsil seats. Out of them, one is contesting election as independent candidate while the another from QWP platform. The QWP awarded ticket to Dr Faiza, who is the former members of KP assembly, for Haripur tehsil, mayor. Aram Rasheed is running election for Ghazi tehsil mayor as independent candidate.
Unfortunately, political parties such as PTI and ANP who have been great advocates of gender equality, also ignored the women in awarding tickets. PTI is ruling the KP for last eight years while ANP has no women wing as it believes in equality.
What is worse, apart from it, is that all most all the political parties ignore women's effective representation in decision-making bodies at different levels. In Khyber Pakhtunkhwa, for example, there is no women participation in 15-members cabinet, and four advisers and five special assistants to the chief minister. The Chief Minister Mahmood Khan has so far reshuffled the cabinet for eight times, but didn't inducted a single woman out of his party 18 female parliamentarians into cabinet.
Women are often discouraged in every filed of life including political empowerment and its poor representation reflected in the World Economic Forum's Global Gender Gap Index 2021, where it ranked 153 among 156 countries. Pakistan is the second-worst performer in South Asia, only ahead of Afghanistan which placed at last in 156 countries. The biggest slump is in the political empowerment sub-index, where India ranks 98.